Thermoformed Medical Devices
Since 1985 Welch Fluorocarbon has specialized in providing thermoformed medical devices by utilizing thin high-performance films.
Challenges
With medical devices getting smaller and smaller, space inside the devices is becoming tighter and tighter. Welch Fluorocarbon's custom thermoformed medical device components can deliver extremely thin walls down to approximately 1.0mil (.001").
Solutions
Insulation
Implantable medical device components for battery and capacitor insulation. An excellent pinhole-free alternative to Parylene Coatings.
Chemical Resistance
For applications that require a material that can stand up to the harshest environments and battery chemistries.
Temperature Resistance
Perfect for applications that require high maximum use temperatures. An excellent alternative or replacement for polyimide tapes, which are labor intensive.
Inertness
For applications that require a non-reactive material.
Releasability
For applications that need a non-stick material or non-wettable surface.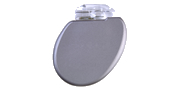 Thermoformed Medical Device components with ultrathin walls are suited for applications in which real estate is at a premium.