Environmental Scientists have utilized Welch Fluorocarbon to assist in a variety of applications that require high-performance materials.
Challenges
Atmospheric Chemistry experiments require highly specific and precise instrumentation to insure their results are as accurate as possible.
Solutions
Custom heat-sealed Teflon™ film simulation chambers provide Atmospheric Scientists with a perfect instrument for their aerosol experiments.
Inert and non-contaminating
Chemically resistant
Fully enclosed
100% customizable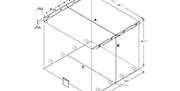 All of our Teflon® Simulation Chambers are custom built to suit your experiment.