Welch Fluorocarbon has helped numerous Biotechnology companies resolve tough challenges by using our custom high-performance film products.
Challenge
The world's largest cord blood storage facilities had a unique problem that required a material that can withstand cryogenic temperatures for an extended period of time.
Solution
Utilizing the incredible properties of Teflon™ FEP film, and our highly adaptable manufacturing abilities Welch Fluorocarbon has been able to provide a highly specialized custom Overwrap Bag capable of acting as a secure secondary level of containment.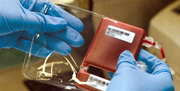 Teflon® FEP Overwrap Bag used during the cryogenic storage of cord blood.