Aerospace Heat Sealing & Thermoforming High-Performance Films
Over the years Aerospace engineers have come to Welch Fluorocarbon with problems that have been solved by heat sealing or thermoforming high-performance films.
Challenges
Aerospace and extreme environments go hand in hand, and Welch Fluorocarbon has been approached on numerous occasions to solve problems due to those environments.
Solutions
Heat sealed Teflon™ bags and thermoformed three-dimensional parts manufactured from high-performance films (like Teflon™ film) have remarkable properties that are extremely useful to the Aerospace / Spaceflight  industry:
High temperature resistance
Non-flammable
Chemical resistance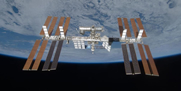 Welch Fluorocarbon has produced high-performance bags to support NASA spaceflight for over 15 years.